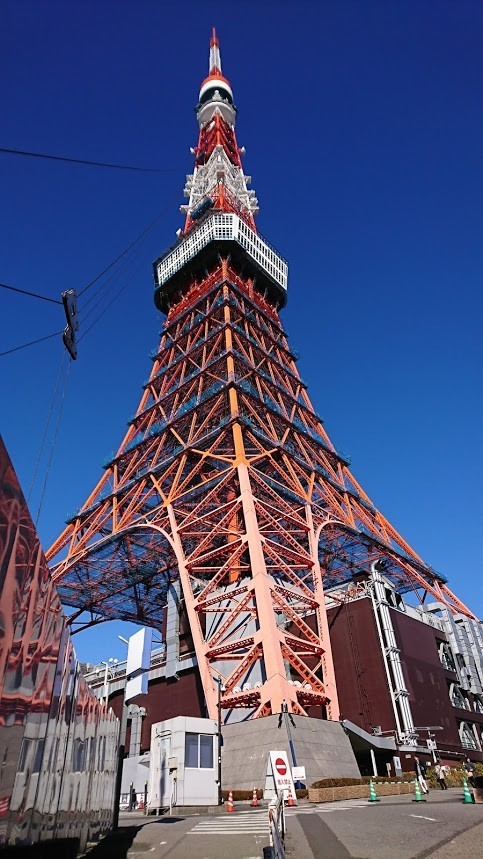 Tokyo Tower
Dear Newsletter readers,
Hello! This is Nagisa writing. How was your New Year's holidays? I went to Tokyo in this Oshogatsu. Yes, I went to Tokyo again. I have no idea how many times I talk to you about my trip to Tokyo in this newsletter. This time, my purpose was watching Rice Bowl which is the football game between champions of collage league and corporate league. KG Fighters, my old school football team participated in the game as the collage champion! At first, I was going to watch the game at sport bar, but I can't find the place anywhere in Osaka. I consulted with my friend what should we do. I thought that Tokyo maybe call us, and KG Fighters need our support. It must be so! We discussed about it on Jan. 1st, and we headed to Tokyo on Jan. 3rd. Unfortunately, they lost the game. However, I'm so glad that I was able to watch their fight with my own eyes!
Of course, we enjoyed sightseeing in Tokyo, too! We went to Tokyo Tower which was a radio tower worked until 2013. The height of the tower is 333 meters, and there are two observatories each at 150 meters and 250 meters above the ground. We took part in a tour named 'TOP DECK TOUR' to go up the upper one. Look at this urban view! There was also beautiful Mt.Fuji over the concrete jungle. Can you see it? We can see it so clearly and that was very moving! I regret that the picture can't express how beautiful it is. On the other hand, there are lots of mirrors arranged geometrically in the observatory. Neo-futuristic! Tokyo Tower has just marked 60th anniversary in December last year. Its red silhouette is symbol of Tokyo even now, isn't it? If you ever visit to Tokyo Tower, I recommend that you join the TOP DECK TOUR!
Geometric pattern is often used on Kimono items, too. I'd like to introduce you today my favorite items of stylish and unique geometric pattern!
< Obi >
< Kimono >
< Han-eri and Obiage >
By the way, I went to 'WIZARD TOUR 2019' of VICKEBLANKA last week. Do you remember him? He is Japanese piano man who I'm addicted to. Did you listen to his songs yet? That was my first time to go to his show at music club. Sometimes he sing ballad songs playing piano, and sometimes he play rock music strumming guitar. Also, sometimes he change the music club into disco club playing EDM music, and sometimes he sing pop songs running around on the stage. There were full of magic, and I saw wizard on him! Time just flew because it was sooooo much fun! I got a year's worth of energy from his performance.
Thank you for reading til the end! That was my story of start of 2019. It was good start even if I do say so myself. haha... See you next time!