Hello everyone, Ogenki desuka? This is Yoko writing this week's newsletter.
The top photo was taken on my way home from work last week. It was a beautiful autumn sun set, I could not resist.
By the way the big house in the photo is not mine. hahaha
August is over, and my children had returned to school. (finally!!, yokatta..)
We have three semesters, and second semester starts on first of September in most schools.
Children are normally very tired on their first day back to school from staying up too late in summer or finishing homework at the last minute without any sleeps.
I know my son finished his homework, but I am not sure if my daughter even started her homework. I will try to keep calm... sigh.....
Days are getting shorter, and season is slowly shifting to Autumn. Kaki persimmons in my garden is turning colors.
Morning breeze is a bit chiller now and soon, we start to smell the Autumn in the air, I don't know how to describe it, but air smells differently in each season. Personally, I love the summer air. I love the smell of green leaves with warmth from the sun.
It is always a bit sad and nostalgic to feel(smell?) the summer end.
See you next year Summer! Mata rainen aimasho!
Well, in this news letter, I would like to tell you more about our staff at Ichiroya.
Today, I would like to tell you about Mitsue and Nagisa. You must have seen their names in descriptions?
They both write descriptions in both English and Japanese. Here is a photo of Nagisa and Mitsue.

Mitsue sits at far left corner from my desk and keeps quiet at most of the time, but when we start talking, I can tell she has information flowing in many directions.
But despite her quiet and sophisticated character, my eyes popped out when she told me that she used to take belly dance lessons!!
Oh! She also told me that she takes Zumba, yoga, and aerobics lessons!!! She is such an active and athletic person!!!
A deep bow to a lady with education and talents!!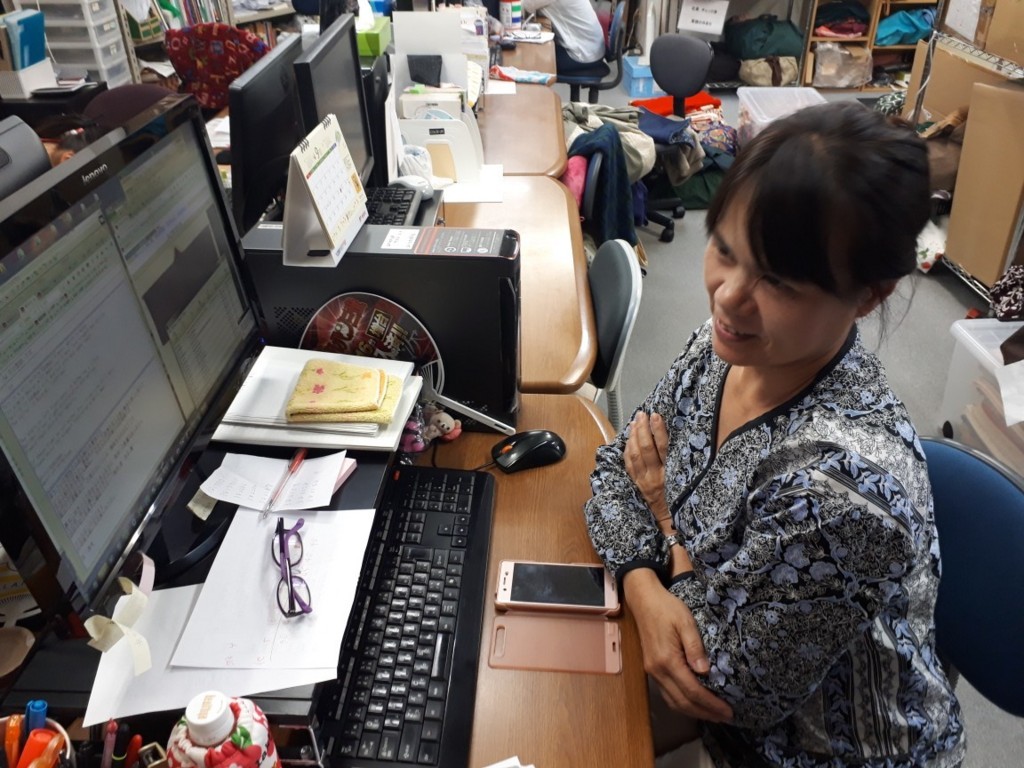 Nagisa sits in front of Mitsue. Nagisa loves to read. I see her reading a novel during breaks. She is shy and very quiet like Mitsue, but she keeps an eye out for everything. She knows what is lacking and what is needed and don't hesitate to share her opinion when asked.
But you know every girl has a soft spot right? She is in LOVE with American football!!!
Hope you read her newsletter about going to meet Tom Brady of New England Patriots all the way to Tokyo!!? (we are in Osaka!)
She is dedicated to work and rarely takes a day off, but you know the ONLY day she demands for an off??? Yeah, you are right!!!! Super Bowl!!!!

Speaking of sports, you can tell what was a popular sport when Kimono was made from some of the motifs on Kimono.
Have you noticed some kimono has unique sports motifs???
 Tennis and ski
Men's Kimono #326276 Kimono Flea Market Ichiroya 
Baseball
Men's Kimono #361454 Kimono Flea Market Ichiroya
Baseball
Men's Kimono #359764 Kimono Flea Market Ichiroya
Baseball
Men's Kimono #361067 Kimono Flea Market Ichiroya
Ballet
Obi #379780 Kimono Flea Market Ichiroya
Sumo!
Men's Kimono #380482 Kimono Flea Market Ichiroya