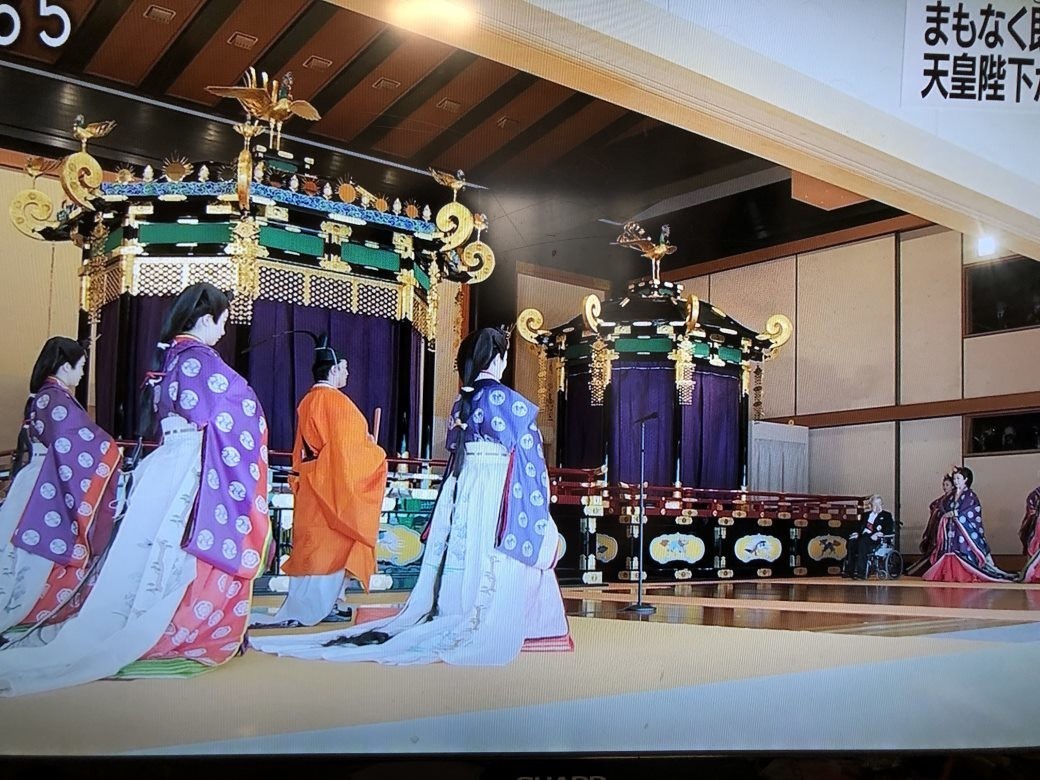 Dear newsletter readers, 
Hello, this is Mari writing this week.
Last time, I wrote about Rugby World Cup 2019. Japan, a.k.a brave blossoms, played very well, and advanced to the quarterfinal. Although they lost against South Africa, they did great job. I want to thank them for entertaining and encouraging us with their great performance.
I still look forward watching rest of games!
There was the throne of His Majesty the Emperor on Tuesday, October 22nd. The ceremonies participated in by around 200 foreign heads of state and other dignitaries. They were live broadcasted. I watched TV with great interest. As you see in the top picture, Japanese imperial family members were dressed like Heian Nobles for the ceremonies. The image on the TV monitor was just like Heian period (794-1185), and I felt like we have time traveled back to the period.
It was raining hard in the morning of the day. However, when our new Emperor showed up, the rain stopped, and there was a rainbow in the sky.
We all felt some super natural power at that time. It must be a good sign for the Emperor and all of us.
Both majesty looked great in the traditional costumes.
As the Emperor declared, we all hope peaceful Reiwa era.
While I was watching the ceremonies, I really thought that the traditional costumes "Sokutai" and "Junihitoe" are beautiful.
As you may know, Heian Nobles in the traditional costume pattern is all time favorite. We have many of them on our site!
 
Thank you for reading until the end.
Hope you enjoy our newsletter. See you next time!