Dear Ichiroya newsletter readers,
Hello from  beautiful sea! I'm Nagisa writing. How was your summer vacation? Did you go somewhere? I went to Okinawa for the first time with my friends. Okinawa is southernmost prefecture of Japan located in the East China Sea, and consists of over 150 islands. It is popular tourist destination because of warm climate throughout the year. However, it is also well known as a region where a lot of typhoons are coming during summer. Before the trip, there were five typhoons No.15 - No.19 around the south side of the main island of Japan. (Theses typhoons were born for five days in a row, and it was the first time in a history.) The first day of the trip, we enjoyed shopping, taking a lot of photos at various instagenic spots, drinking and eating local foods in the heavy rain. However, the second day, we can enjoy scuba diving under the sunny summer sky! It was a miracle! It was just because our everyday actions are good, it must be so. The sun shower, blue gradation, clear sea water, colorful fishes and corals... They were beautiful beyond description, so I'll show you some photos taken over and under the sea instead.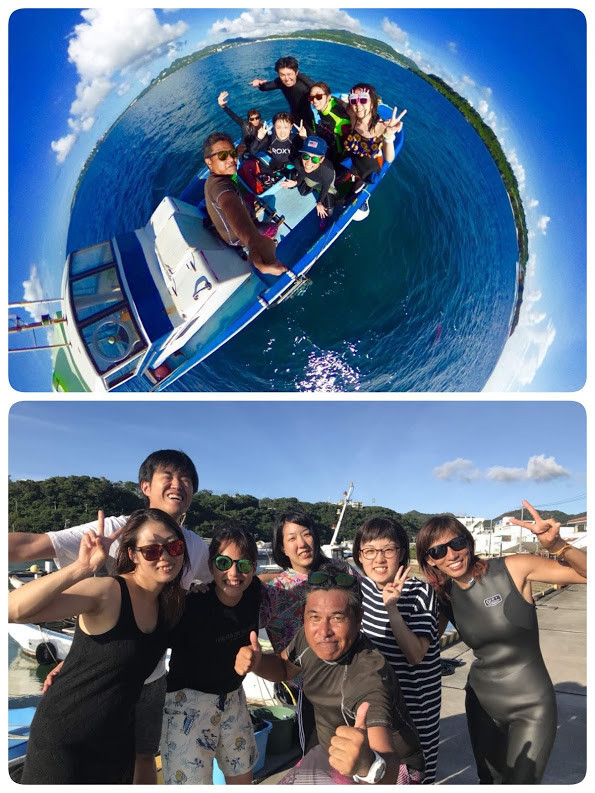 Speaking of Okinawa, have you ever heard of 'Ryukyu Bingata'? It is one of the dying technique representing Okinawa, and is designated traditional craft-work. It has some characteristics. The first one is to dye with pigments. The second one is to use hand-carved Katagami(stencil paper). And above all, it is dyed with vibrant  colors which have tropical atmosphere.  It has already existed around 15th century, and it was formal wear, and was also casual wear worn by from royal family to common people. However, there were some rules about it base color or designs. For example, royal women were wearing yellow Bingata Kimono at formal occasions, and light blue Bingata Kimono was worn as a casual wear. Only prince and queen were allowed to wear Bingata Kimono with dragon or Houou(phoenix) design. A person of high status was wearing Bingata Kimono of large sized pattern, but old person's one is small. Please refer to these information, if you buy Bingata Kimonos!
These are the REAL Bingata we have, so delightful and tasteful:
 Bingata coloration are so pupular- I'd like to introduce you Bingata-style items which have vibrant colors!
Lastly, it is personal note, I celebrated my 30th birth day and 30th diving during the trip to Okinawa. I'm sooooo HAPPY to go there with them, and really grateful for celebrations, surprises, handmade presents and their gentleness! It was the BEST summer vacation ever! I will never forget this trip.