Staying home for the weekend, feeling uneasy and scared, I was sorting out my kimono dresser. 
I found these in the bottom of the drawer, two furoshiki (wrapping cloth) with dyed name and a little fukusa(gift cover), I had them since I got married.
The dark blue big furoshiki has my maiden name in Kanji, they read `sugino'. Sugi is Japanese cedar and `no' is field. It is not too common name but there are many Japanese who has these kanji in their names. I think I have used this furoshiki a couple of times, carrying my kimono.
The pink little furoshiki has my name Yuka in kanji. Yu means origin, source or reason.
Ka means good, or things placed in order nicely. Yu is from my mother's name and about ka, my father who named me said his first love had this kanji. (It might be true but he was just trying to be funny). I think he liked this particular kanji.
The little red fukusa has a family crest (crossed feathers of arrrow) from my mother's side.
You may think Kamon, family crest means a lot for Japanese but actually, many people do not know what their kamon is. There are so few occasions to use kamon now. People who wear kimono for the way of tea, or attending very formal ceremonies such as award ceremony, you need your own kamon on your kimono but it seems having kimono or fancy table wear with kamon is not really common thing any more. We have a short meeting each morning at Ichiroya, and our staff take turns to present something in turn.
We asked each staff to talk about their kamon, some staff had to ask their parents or relatives for they did not know until then, but it is quite natural thing now.
When I turned over the red fukusa, there was my name yuka in hiragana.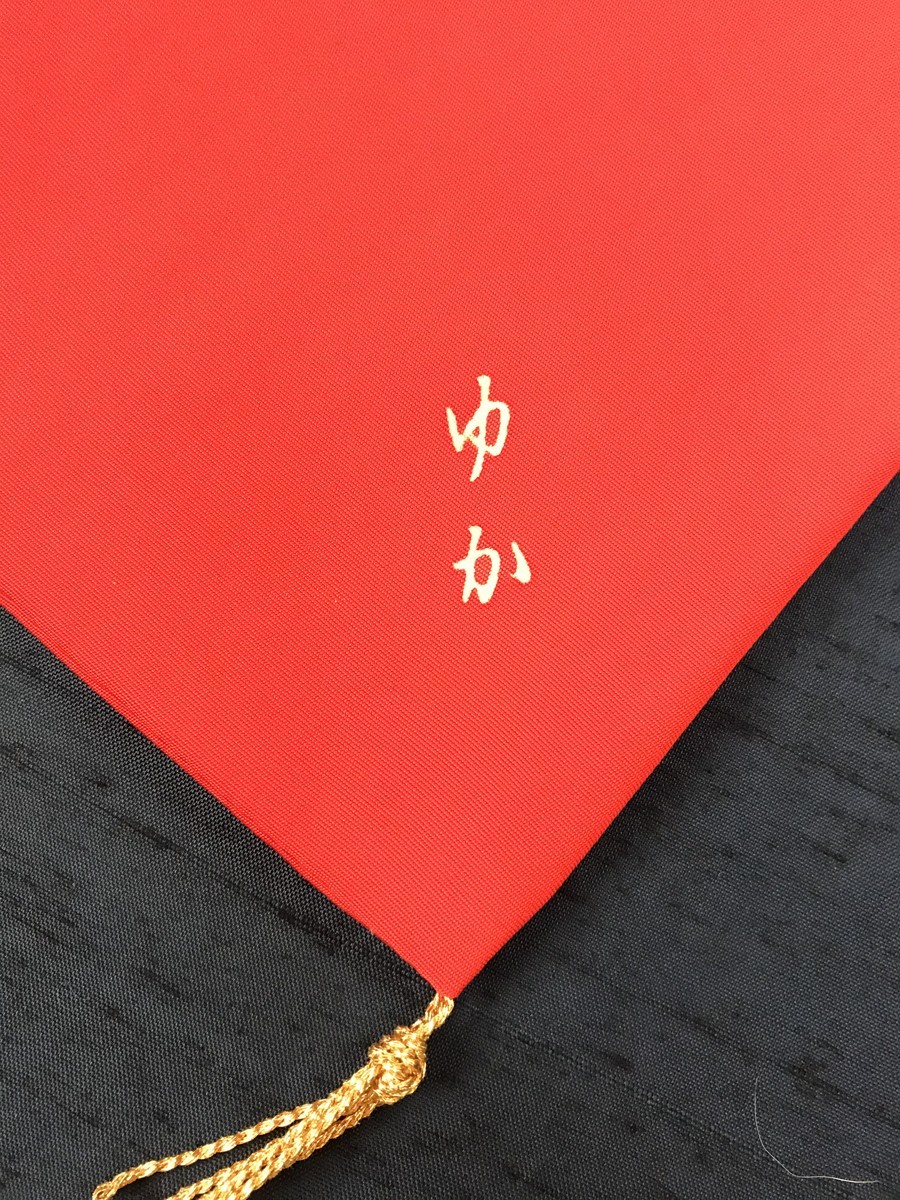 It made me stunned. I was not aware the fukusa had my name on the other side.
I might have known when this was given to me when I got married, my parents had prepared it for me, but I just did not care to use or appreciate it. I forgot about it.
Both of them passed away and I cannot tell them how thankful to them and how much I loved them, they cared about me but I just did not notice. 
What is the word which makes you most happy?
I remember hearing this before somewhere. People were guessing and many people were saying, `thank you' or `love you' are the word they like to hear and make them most happy. But this doctor ( I cannot remember who it was) says no. The word which makes you most happy is your name. Hearing your own name makes you most happy.
When I found my name dyed on this little fukusa, I wished to hear my parents calling my name.
We are all in such a hard time we have never expected. I really wish to call your name from here to cheer you up. My calling your name may not work, so imagine your loved one calling your name and cheering you up. Everyone at Ichiroya think of you and send our best wishes from Japan.
We cannot see how to beat this virus yet but we will see this will end, and will have our normal life back.
Minasan, dozo ogenkide!