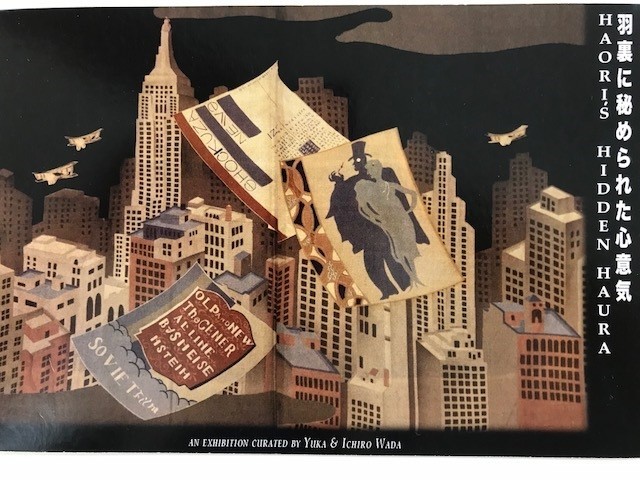 Hi from Yuka. Ichiro and I came back from NYC on 27th. We already miss NYC!
We like to write about this exhibition and share the photos with you.
The exhibition is to show unique linings of men's haori from before WWII. You may already know but men at that time often had interesing designs both dyed and woven in the lining. Of course they are just lining and made to be inside. This time all these haori were displayed inside out. Do you think such exhibition could suceed?
 Firstly, we cannot talk about this exhibition without mentioning about this Globus Washitsu.
We arrived midnight, it was really cold but  in front of the building, Globus san (Steve san) and Kumi san were waiting for us outside. How relieved we were to meet them!
We were lead to the 7th floor, the beautiful Globus Ryokan they made where we stayed for 10 days.
There is another room, Ichiro is checking curiously!
You can see more photos here ↓
 Is this really in the middle of Manhattan? The building is on Broadway and there was  suddenly Japan and the silence! 
As staying there for 10 days and having the exhibition and meeting many people, we gradually became aware, why Steve san decided to create this space.
*********************
Preparation started! We brought 70 men's haori but had no idea how to display. The exhibition was held on 8th floor and there is even upstairs partially double height!
We were given so much help from many people, and without Dorothy san, those beautiful display never happened. She appeared with bunch of cord with the excellent gadget handmade by her and poles and started working quickly and efficiently. With her long time experience of museum exhibitions, she knew how to place each haori. She advised to fold the sleeves inside to have more space to show more haori, we felt as if scales were fallen from our eyes! We never thought about it!
Is this okay here?
I got it!
Animals were given nice place.
These haori with fusion culture looked good here
ea House, KeiSui-AneaAn
Tea House, KeiSui-An, the samurai was given the best place
Ready to welcome people, dozo gorankudasai 
(Ichiro, smile!)
All haori were categorized in 7 groups, "scenery and travel", "hobbies and past time", "samurai", "animals", "war theme", "Taisho roman", "Ukeyoe and folk tales" and each group were given best corners. 
We will be so happy if you could click here and feel you were there visiting this exhibition and enjoy!
We had a reception night too, and Ichiro made a speech to thank all the people who made this exhibition possible (he surprised me, he suddenly tore the speech manuscript in front of everyone and started talking about what he felt by improvising! The whole thing and NYC were too inspirational, he could not help talking about it.
My turn came, Ichiro talked quite long, so I did not want to talk long, but I regret (this I regrest most)not to read the particular part of the flyer by Steve san.  It tells everything about this exhibition.
"What secrets hide beneath men's  clothing?
HAORI, Japan's traditional jackets, contain private messages. Concealed within them are pictorial linings, HAURA with surprising themes, that reflect the whims and fantasies of their owners. These linings may reference yearning for a beautiful landscape, protection by a chosen god or favorite animal, a pleasant pastime, an historic event, the desire for a special woman.
All will be exposed in this unique exhitigion as these jackets will be presented inside out to reveal rare glimpses of private woulds and closely-held secrets."
 ****************************************
We like to thank everyone who came to visit this exhibition, from NY and also from New Jersey, Rhode Island, Washington D.C.,  and from so far as Virginia, Florida and even from Colorado, by car, by train and by airplane. It was like a dream to meet people in person after many e-mail exchange. Meeting Kimono De Jack girls including Ichiro's highschool classmate in kawaii kimono was so exciting and so much fun too. We like to thank all the comments, are so grateful to be given the information we were not aware too.
I want  to close this newsletter with the favorite photos from this trip, actually I LOVE the photo on the top the best,  Dorothy san brought the Japanese quince branches and placed in the corner which made the whole exhibition so special (domo arigato gozaimasu, Dorothy san)
And this is what we saw from the door on the top floor from the haori room!
Good-bye, water tower, we hope to see you again!