Hi! This is Nanae from Ichiroya.  I'm new and have been working here from the end of February, this year, so I have been learning a lot of things about kimonos every day since then.
Spring has come!  It's getting warm so two of my friends and I decided to go camping near Mt. Fuji in Shizuoka prefecture.  We went to see Mt. Fuji two years ago, too.  It was cloudy because a typhoon was coming at that time, so we couldn't see Mt. Fuji at all!  'This time is our revenge!'  We checked the weather every moment and well-prepared a lot of equipment such as tents, beds, sleeping bags and cooking stuff.  The weather forecast told us, 'It's time to go.'   We were ready to go then!
We took turns driving on the long journey.  We enjoyed chatting and singing in my small car even though it took us 5 hours to get there in the middle of the night.  Why?  We were sure we could see the highest mountain in Japan this time!  We were so excited!
As it got closer to the camping ground, we had a bad feeling.  We thought that Mr. Mt-Fuji skipped town and left Japan.  There is no Mt. Fuji around us and to make matters worse, it began drizzling.   We had only one choice but to set up a camp as we had driven for 5 hours to get there already, the weather forecast said it would be fine the night and we wanted to do it!
We enjoyed some local food and sake, making fire to get warm and decorating our tent without Mr. Mt-Fuji.  It was just a usual camp for us. We went to bed at 11pm.  I had a good sleep.   I thought…
When I opened my eyes, I saw the side of the tent in front of my face and I heard terrible sounds of a rainstorm.  One of my friends was holding the pillar of our tent in the middle.  Our tent is ''10(3m)'' tall and has only one pillar in the middle.  It cannot withstand such strong wind.  It was 2 a.m.
Another friend, who was adjusting tent pegs, came back from outside.  What a …?  He was covered with something white!  Yes!  It was a snowstorm actually.  The snow was driven by strong winds, and lay about ''4in (10cm)'' deep.
We all felt menace of nature and were in peril of losing our lives while we are packing down everything.  We tried to take off the pillar desperately in order not to be blown off by wind.  When we could see the moon in high wind for a second, I realized Mt. Fuji towered above others just beside us!
Guess what?  I've never seen such a huge and horrible thing with sounds of strong winds in a dusky night!  So scared! So scared!  I was scared of Mt. Fuji!!!   We had to stay in the shaking car just beside the scary Mt. Fuji until the storm had gone.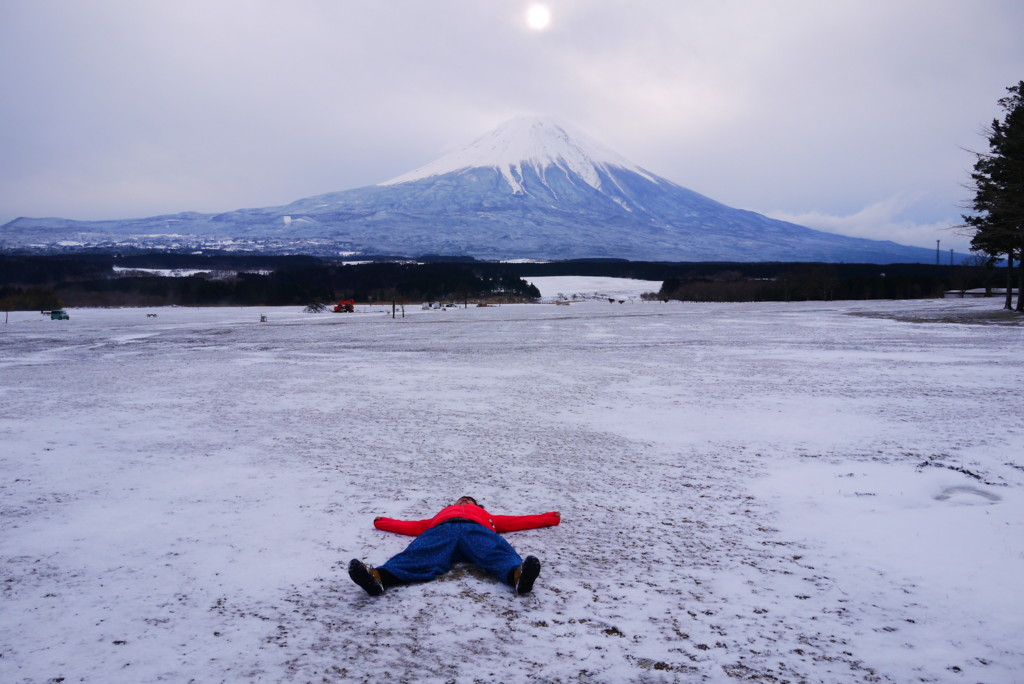 At 7:00 a.m.   Yeeeaaaaaaay!! Yeppeee!! 
Look!  What a dynamic view it is!  We finally proved the existence of Mr. Mt. Fuji!  This is a story about the horror I experienced.
All's well that ends well. :P
Thank you for staying till the end.
Here are some items with Mt. Fuji design below.
*boy's kimono*
*kimono for men*
*kimono for women*
*
http://www.ichiroya.com/item/list2/
/
http://www.ichiroya.com/item/list2/
/
*obi & others*

340701

http://www.ichiroya.com/item/list2/