Dear Sir
Thank you for taking your time to come here to talk with me, Sir.
 You must have been a famous dyer of the time, even though we have no clue for the kimono has no labels, no dyer's stamp, rakkan or anything.
(Well, I do not know why I am here for but I hope it is not a boring thing.)
You know, those rakkan, dyer's stamps are rather from a newer age, rakkan are originally for paintings and calligraphic works. Of course, rakkan on kimono takes important role to prove authenticity sometimes, but we know, not all rakkan are meaningful.
(Yes, in my time, individual craftsman didn't think rakkan were necessary, besides, I am not the `show-off' type of a person).
Ok, the main reason I am talking to you is to let you know how thankful we are for the work you did, I mean making this particular kimono.
This kimono is absolutely gorgeous, I wish I knew the appropriate words to express the beauty of the kimono.
(Of course,  this is gorouges, how much time and work did you think we spent to make this kimono! Is this the reason you asked me to come all the way?)
I named the kimono, `Hana no Kyoen' (Feast of Flowers), when, we ....
(When you what? Speak out!)
When we reprint and remade the kimono.
(I do not understand. The kimono was designed, dyed and applied embroideries and finally tailored by a customer's order. It is our team-work.)
Yes, of course, and ordered by a woman from a rich family, we assume.
(I cannot tell, it is confidentiality,  besides, Japanese men are not talkative. Talking much is not a virtue.  We craftsmen did our best to complete the work, that's all.)
Yes I noticed, kimono designs are like a piece of paintings, I mean art. When kimono are spread wide, each of them look like a piece of paintings, or  an impressive tapestry. Sometimes I noticed, some craftsmen were not aware of kimono being worn, you, oh, I do not mean YOU, but sometimes the beautiful part of the design are covered by obi.
( Are you critisizing me?)
No, never, I just said what I felt sometimes......
(I do not know what you are talking about. We were so proud of our work, we never slacked off. We poured all our energy to what we do. No matter how much time and effort it took. I heard it is quite different from the way in your time, I heard efficiency is the virtue for you.)
Oh, you talk a lot! I am surprised.
(It is getting strange, why am I getting so heated? Oh, it is your fault, you were going to say something. Say what you need to say!)
OK, we made a copy of your work, in short.
(No, you could not. How long did you think I worked to be qualified fully as a craftsman.)
Let me explain. When Ichiro, he is my husband and the president of our kimono webstore, ICHIROYA, anyway, he thought the kimono was exceptional at his first look. He brought back this kimono from an auction, and we were all bit by the beauty of this kimono. The word `beauty' may not be giving justice to the kimono. It was so full of life.
(So your Ichiro sold the kimono putting a huge price, I assume.)
No, we did not sell the kimono. We reproduced new kimono with exactly the same design.
(It is getting weird, just explain to me.)
We scanned all the part of the design, and reproduced on paper and then transferred by heat, thermal transfer is what we call.
The machine we used is called `sublimation transfer printer'.
https://www.kimonotte.com/en/page/common/pirntpc.html
 It was not as easy as we talk. The colors are so tricky, it took  a long time and many testing to get closer to the original colors to the details. Tailoring was also difficult, matching the patterns at seamlines depending on different size...and so on. Our staff Yuko, Aisha and Yumi worked hard making the deta again and again.
(Umm, and you sold whatever you made as if they are your original? Did't you think it is an act of `shameless thief'?)
In Japan, copyright of the original creater expires 70 years after the creater's death.
We consulted a lawyer also.
(So you stole the design, no matter what you think. I cannot sue you but I can still appear as a spirit to torment you for life!)
I know. Without your work, there was no reproduction. I wanted to tell you about what has happened. 
We made kimono with your design, and also some other design and showed them to our customers as `made to ordr' kimono. 
We received many order from last year, and this year, we included this Hana no Kyoen kimono, which is your design again as summer kimono line up together with other vintage kimono design. 
Again, this Hana no Kyoen kimono became most popular. Some customers even ordered in other color besides the original color one they had.
(Wait, wait, you made the kimono in other colors too? )
Actually we made obi, obiage, and haneri collar also.
(No way,  it was a perfect design kimono, one and only, I cannot remember but I might have made a few of the same design kimono , but definitely not by printing. but dyed by my own hand.)
I wanted to tell you, how much this kimono design has been loved.  People loved the design.
The kimono was from long time ago, before WWII but it is so fresh and so alive.
Young kimono wearers love this particular design and enjoy putting them on as kimono, 
obi and accessories.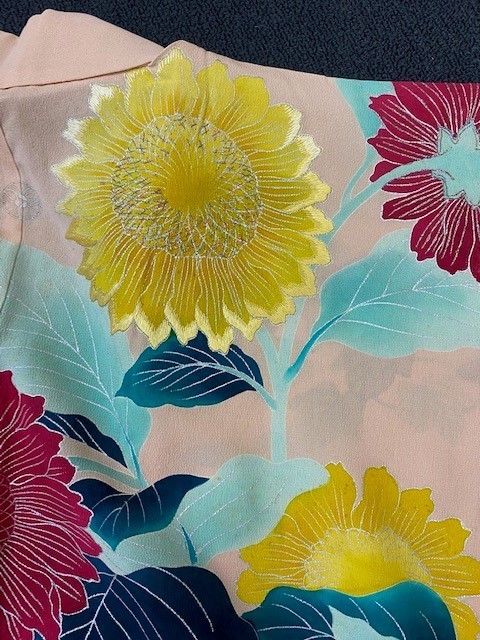 Yesterday, I was alone in our office, I spread the kimono to look at once again.
Not the one we printed, but the one you dyed. The flowers were full of life, the colors were so vivid and subtle. The blooming flowers were delightful as if they were singing and swinging. I could know why people were so fascinated by this kimono.
(Is it true many girls love my work?)
Yes, it is true. I have made the short video. I dedicate the video to you to show our gratitude and respect. Also you can check our Instagram to see how many people are wearing kimono, obi and other things with your design with joy.
(I still don't know what you are talking about, but I guess my kimono made many people happy, is that the thing? After so many years?  And my design keeps living even the original kimono gets old and becomes not wearable any more?)
Yes, exactly. I do not know your name but everyone knows the design is from this vintage kimono and they love the design and wear them happily.
Yes, you definitely made many people happy.
(Well, I should be going. I am not sure exactly what you were doing, but I accept your gratitude.)
Domo arigatogozaimasu. I always wanted to convey this appreciation and hope you could convey this to other craftsmen also for us.
(What a nerve!  Oh, I heard Ichiro and you are closing the store. Good bye and good luck.)