Dear Ichiroya newsletter readers,
Hello! This is Nagisa writing. How have you been? Have you heard the news about EXPO 2025 yet? Osaka has been selected as the host of it! That's incredible! As you know, EXPO was once held in Osaka in 1970. 77 countries attended and displayed pavilions under the theme of 'Progress and Harmony for Mankind'. I hear that the number of visitors were over 64 million! I think that it's a good opportunity not only to spread Japanese culture, but also to learn cultures came from overseas. I wasn't born yet at that time, but I often hear that 'We waited in the line for many hours to see the moon stone.' I don't know how excited they were, so I'm looking forward to Osaka EXPO 2025!
Though EXPO 2025 will be hold in Yumeshima, where is reclaimed island in Osaka city, I often go to EXPO park in Suita city where EXPO '70 was once held. I went there again last week, and it was the 4th time for me this year. I have no idea how many times I go to there for the last 10 years... Anyway, I go to the stadium close by the park to watch football game, and usually go straight home. However, I dropped in the inside of the park last time to see the projection mapping show! Fantastic and exotic images were projected on the Tower of the Sun with spectacular music! It was so amazing! Up till the day, I passed through the artistic work without stopping, but I couldn't help buying a lapel pin and a magnet of Taro Okamoto's art works for myself filled with emotion. The inner area of the tower has been opened to the public from March this year, so I want to go there someday!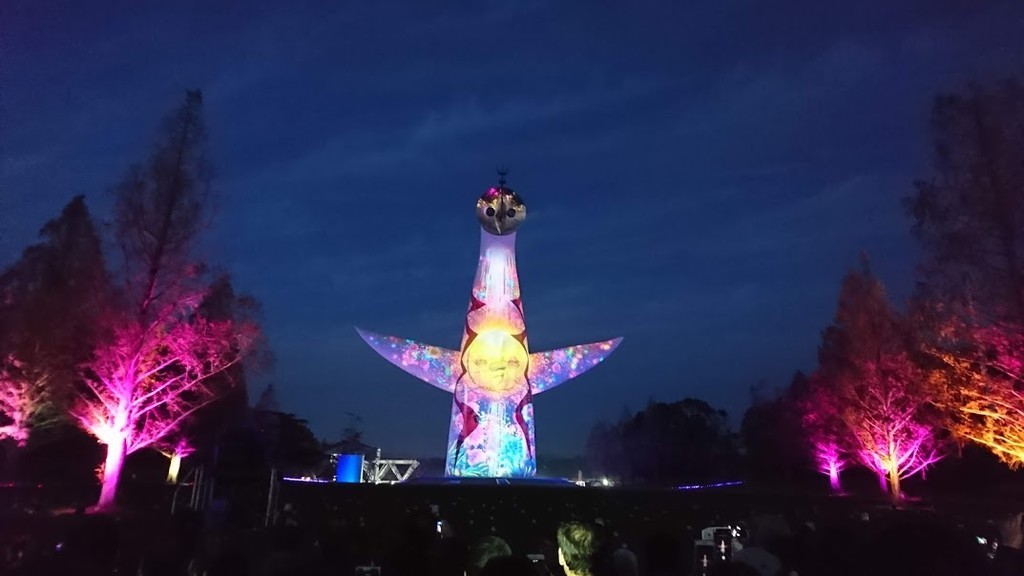 When I see some warm lights such as projection mapping or illumination in downtown, I really feel Christmas is just around the corner. Then, I'd like to introduce you some Obis for this winter season from Kimonotte Brand Side Project! 
We also so have some other unique Obis. Please check this page! I'm happy if you find favorite one...
The other day, I met a fabulous album suitable for cold winter. It is 'wizard' by Vick Blanka. One day, I heard his song from radio while I was working. I took to him as soon as I heard his song! I watched music videos on You Tube, got his albums, and when I realized it, I was in a CD store where the new album 'wizard' release event was about to hold. He was singing songs and also playing piano by himself. Beautiful falsetto voice and melody of piano... I was really touched by his live performance! Some people say, his song like MIKA singing Queen's song. If you like Queen or MIKA, you must listen to Vick Blanka! I recommend 'Slave of Love' to begin with. At the end of the event, he kindly shook hands with me. I've been filling with happiness even now, so I'm worried that I might drain his energy from his hand by the handshake at that time...
Thank you for reading till the end. I'm having fun this winter while listening to favorite music and watching football games. KG Fighters advances to the final dramatically, and Houston Texans is winning 9 games straight. Hope you have a good winter, too!