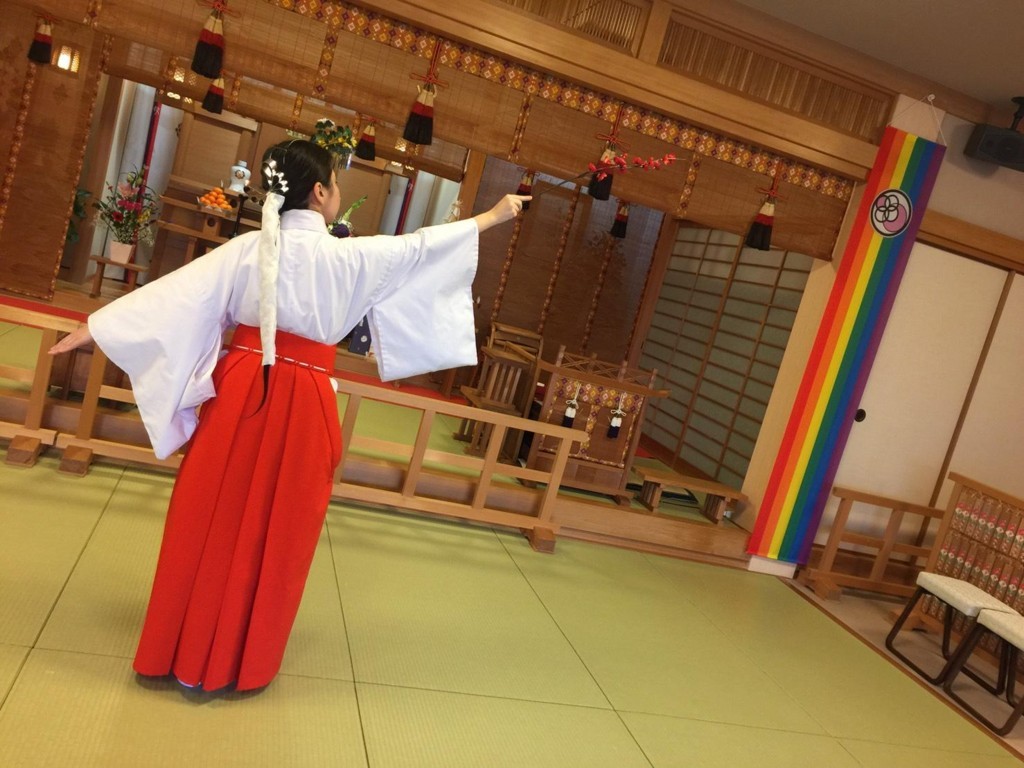 Dear Ichiroya newsletter readers,

Hello, How are you doing?
Megumi is writing.

I spend my time at the shrine except my working hours.
This time, I have something I would like to talk to you.
It is about the rainbow flag in the picture of my shrine.
Do you know what the six color rainbow flag means?
This is the flag that symbolizes of LGBT.
LGBT means lesbian (L), gay (G), bisexual (B), and transgender (T).
My shrine is supporting LGBT.


Sometimes, we discuss about how we should treat LGBT in Shinto.
One Shinto priest says, "Shinto wishes prosperity of descendants, so it is difficult to accept homosexuality."
But another Shinto priest says, "There is no basis to deny homosexuality in the classic of Shinto. But there is no precedent, so I just do not know how we should do about it."

A shinto priest is one of the most conservative occupations.
Their response will get behind the times.

Three years ago, I told my chief priest that I wanted LGBT compliance.
Now, my chief priest says,
"I do not understand everything of them, but never exclude them.
If there is no precedent, I will gladly make it. "




We started to support LGBT wedding.
The picture was taken at our first LGBT wedding.
It was a beautiful wedding of a female couple.
When we asked them about approval of image use of their wedding, they told us,  " For the next generation, we do not mind which media you use our images." That made me to write about them in Ichiroya newsletter.

Since then, I have done several LGBT wedding ceremonies.
Bridal planners and hotels in Japan gradually started to support LGBT wedding.
I learned that there were people with the same intention.



This bridegroom is ex female.
This wedding was a groom's surprise, and the bride was so surprised.





This is a female couple.
Both of them in Shiro Uchikake were impressive.
And this is a wedding ceremony at the outdoor stage I wrote about last time.

The bridegroom is ex female, bride is ex male.
This was part of the event called Kansai Rainbow Festa.
Rainbow parade is being held all over the world.
Kansai Rainbow Festa and parade are one of the largest LGBT events in Japan.
Thinking about it, they have no legal problems in Japan.
But they announced everything and had this wedding ceremony.
It was a happy wedding celebrated by their parents, friends, and the audiences.



I am not LGBT, and I do not understand everything about them.
So, I can not make a hard discussion about LGBT.
Still I would like to advance this.

Now, around the world there are movements about LGBT.
In Japan, we also have too small movements.
I am writing this newsletter that I want you to know about it.

Since I talked about Japanese traditional style wedding today, 
I would like to introduce Uchiake.
http://www.ichiroya.com/item/list2/391195/
http://japan.ichiroya.com/item/list2/382260/
http://japan.ichiroya.com/item/list2/357438/
http://japan.ichiroya.com/item/list2/372408/

Thank you for reading this til the end.
See you next time.