Dear Ichiroya newsletter readers,
Hello, How are you doing?
Megumi is writing.
"National Foundation Day" is held on February 11 in Japan.
Its meaning is not well-known in Japan, but "National Foundation Day" was once a holiday named "Kigensetsu".
"Kigensetsu" is the day that the first generation, Jinmu-Tennou acceded the throne at the present Kashihara Jingu Shrine.
So it is celebrated at shrines in all over Japan.
Since I was a student, I have worked at a shrine.
And last spring, I started a class to teach "Kagura-Mai" at my shrine.
It is "Kagura-Mai" that means Japanese dancing of shrine maiden.
Now, I have some students.
The other day, we did the first presentation at my shrine.
The center of the picture is my chief priest, I am on his left, and the other shrine maidens are my students.
Although there is no photo of them, actually it was the joint presentation of my class and another "Kagurame"-class.
There are many words indicating dancers, for example "Mai-bito", "Mai-hime" and "Kagura-me" etc .
Everyone practiced hard for this day.
Before I started the class, I was dancing alone at my shrine.
So I realized that there was progress and I was very happy.
The presentation was over, so I can have the day off.
So, I went to Kyoto with my friend.
I went to Arashiyama and a kimonos shop.
He likes taking photo and kimono.
He usually brings a big camera, and wears kimono.
I had my picture taken.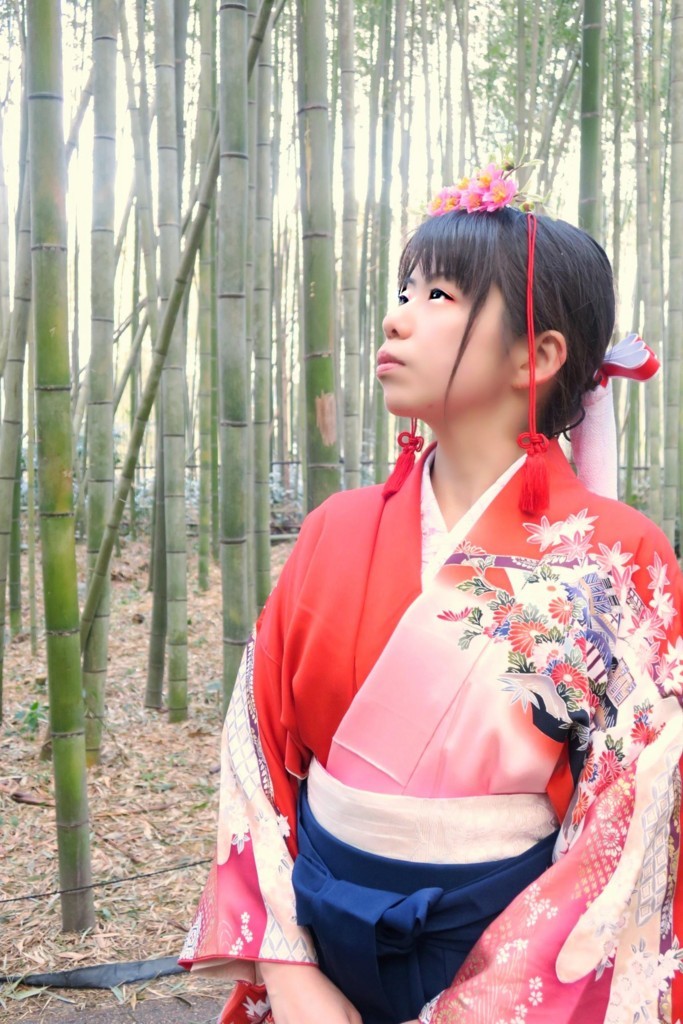 (Photographer : mikan)
Lately I wear Furisode Kimono for going to hang out.
Most Japanese girls will not wear too much Furisode Kimono after the coming‐of‐age ceremony ends.
I feel a little disappointed about that.

In response to his advice, recently I also bought a small camera.
Someday I want to be able to take pictures of my students well.

I would like to introduce Furisode Kimono.
http://www.ichiroya.com/item/list2/378866/
http://www.ichiroya.com/item/list2/400686/
http://www.ichiroya.com/item/list2/401616/
http://www.ichiroya.com/item/list2/393112/ 
http://www.ichiroya.com/item/list2/391201/

Thank you for reading this to the end.
See you next time.